It started when Dr. Derikson suggested that my original problem was likely caused, not by the bony growth in my toe, but a bone infection. I had to consider that I was possibly headed towards an amputation of the toe, but there were several things to try first, and so I gave myself over to treatment.
In the intervening months, I became an expert in wound care. I learned how to pack a wound with wet and dry dressings. I learned to irrigate the wound and I learned where to get the best bandaging materials. We alleviated pressure on the wound with different devices and techniques. By April I was fitted to a walking boot.
I completed Wood Badge training while I was in the boot. Our local Council offered the advanced BSA leader training only on alternating years. The training itself is a full week program, or in our case, two weekends. Morning and evenings, I soaked my foot in epsom salts and warm water.
I spent eight weeks, starting in early May, on intravenous antibiotics. When that didn't show immediate improvement, my foot was bound in a walking cast. I was subjected to oxygen therapy in a barometric chamber. Just before the barometric oxygen started, I contracted c.diff from all the time on various antibiotics causing me to delay the oxygen until I was no longer infected. After diving twice a week for several weeks. My vision became blurry, which appeared to be a side effect of too much oxygen.
When the cast came off, my left leg was noticeably thinner than my left. I asked about physical therapy. Dr Derickson told me that because of my athleticism, that my muscle mass would return in due course. The wound appeared closed with a scab running the length of the incision. I was cleared to join my family on a cruise to St Thomas. I wanted to see it before our planned trip to Sea Base.
In late June of 2015, Barbara and I joined my parents for the cruise to the eastern Caribbean, including Puerto Rico and St Thomas. Most of the cruise was really lovely. On Dr Derickson's advice, I was alternating between the surgical boot and my running shoes (walking only). We had a few wonderful snorkeling adventures.
On the cruise ship's private island, Avner and I followed a sea turtle that wandered into the roped swim area. I have some great memories and pictures from that trip.
A couple days before the end of the cruise, Barbara and I decided to catch a show, kind of a date night. My mother could check in with Avner, who was mostly just watching tv. One of the big features on the ship's tv at the time was the movie Gravity. As Barbara and I are fans of the space program and part of the NASASocial social media community, we had been having some fun laughing at some of the ludicrous plot devices in the film.
The evening out began with a rock and roll tribute show. No doubt, the performers and entertainment staff had worked very hard on the production. However, there was an element of kitsch, which amused us. I'd make some snarky remark and get my wife giggling, like when the featured singer was standing in front of a video screen of exploding flames which appeared to be some kind of superhuman flatulence.
The entertaining evening rolled from the theater to the main lobby, where the entertainment director led a number of audience participation fun and games. The private amusements that Barbara and I had shared had drawn some attention, apparently. The director called me onto the stage, so have a little fun at my expense.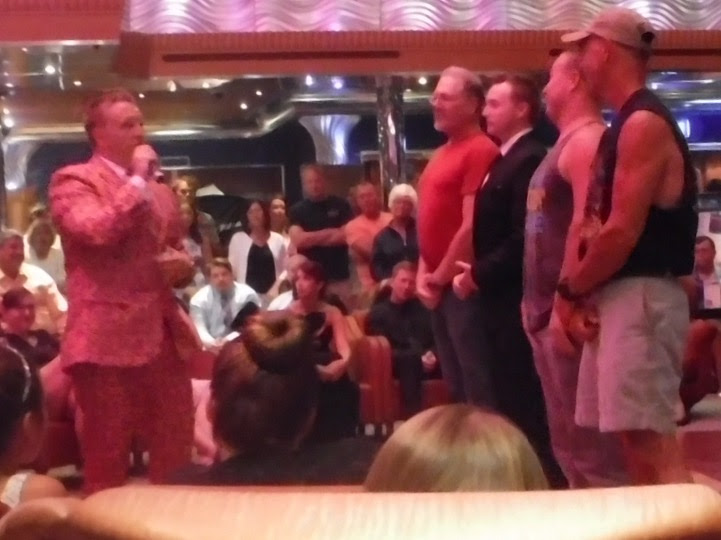 I've never shied from attention, so I figured that I had been caught and I would give the best performance possible. The topic was pop music of the 1980s. The lobby area and the overlooking balconies four floors up were packed with cruise passengers for the night's entertainment. After all, there was nothing else to see because we would be sailing all the next day and arriving back in port the morning after that. There was really not much else to do.
So,  there I stood with the other "volunteers" on the stage with our audience of several hundred. The final joke at the expense of our limited dignity, was to dance to the Back Street Boys. I was also still favoring my left leg, but had adjusted to walking in regular shoes again. So, July 2, 2015, just before 9:45, I turned, with the music and found myself profoundly in gravity's grip, on the floor.
The cruise director turned to me on the floor and asked if I was ok and able to get up. The answer was "no."
I was helped to my seat. A wheelchair was brought to me a few minutes later and my wife and got a tour of the lower decks and the doctor's office. Needless to say, you don't want to be seriously injured or ill on a cruise ship. I had already abandoned dignity with previous medical adventures but the utilitarian, not quite military trappings of a cruise ship doctor's office sucks the vacation out of the cruising experience. Eventually, it was determined that I had some kind of soft tissue damage to my knee, possibly a ruptured anterior cruciate ligament (acl). I was issued a wheelchair from ship's stores and crutches as well as a rigid knee brace. My last day at sea would be spent sitting. I believe that I also got ibuprofen and a bag of ice.
Barbara drove us the 400 miles home from my parent's house. Our local orthopedist determined that it was indeed my acl and I was immediately put into an articulating knee brace and encouraged to move as much as possible to keep the knee functional.
Two things became evident. I really needed the physical therapy to strengthen my knee. Also, I never should have been taking Cipro or levaquin as an athlete. The entire class of fluoroquinolones are known to cause brittle ligaments and tendons which can rupture suddenly.
Now that I was most assuredly off of my feet for a while, the toe seemed to be getting better, but I had been warned that if I had a bone infection, that any other procedures, especially on the same leg could result in amputation of the leg. It was not a comforting position. I sought a second opinion from the Mayo clinic in Jacksonville.
I took my X-rays and MRI images to Jacksonville. I was told the images were of little probative value. They really wanted their own radiologist to get better images. In the mean time, I was advised to keep my distance from Dr Derickson. When I returned in August to Jacksonville, I was told that there was no sign of current infection and I could proceed to have my knee treated.
A friend's wife works triage for the local orthopedic practice. She gave me a list of the best "knee guys" in the practice. Dr Roll is a middle aged former football player. He apparently had been drafted at one time in the NFL. He's the knee guy for Florida A&M's football team. He's athletically built, polite and very direct.
By the time I got to his office, I was already experimenting with walking short distances in my home without the knee brace. "Mr. Lyons, what do you want this surgery? We don't normally do it for men your age" he started. He explained that I could build some strength around the knee and it be a bit of "trick knee" from time to time, but if I was careful, it wouldn't impede normal daily activity.
"Last year" I started, "I was one race away from my national ranking as a triathlete." I really wanted to get ranked. I made it clear, I wasn't trying to rank highly. I didn't expect to win any of the races that I was entering as an "age grouper" but I really wanted to have the bragging rights that came with a ranking.
"Ok," he responded, "so we're going to do this surgery." There was no back and forth, no questioning if my motivation was ill placed. At that point, I was just another athlete. He explained that it would be three months before I could bear any weight on the leg. It would be six months to heal before I could race again.
However, the damage was already done. If I wanted to wear the brace, I could do whatever I wanted to do up until the surgery.
I also explained my own deadlines. My son's bar mitzvah was coming up in March. My wife would kill me, if I wasn't on my feet and able to help. I also wanted to attend Thanksgiving with my parents. Especially, since the last time they had seen me, I couldn't walk. The surgery date was set for December. I'd be on my feet by March.